BISS MEMORIAL TROPHY
BEST IN SHOW
Trophy donated by Arcticmal Kennels for the FLCV Specialty Championship Show

In Memory of Blaze – Ch Theldaroy Im Not Wild HIT
Blaze Ch Theldaroy Im Not Wild HIT
24/12/01 – 28/02/11
Engraved on the rear of the trophy:

Blaze was the first male Finnish Lapphund in Victoria. He dominated the breed ring during his prime, winning four Melbourne Royal Best of Breeds in a row, numerous other Royal BOBs across the country, and a raft of group level awards when such accolades were still rare for our breed.
He was also the first Lapphund in Australia to earn a herding title, and trained in obedience and agility. Most importantly his beautiful Lappie temperament made him a true breed ambassador, winning a multitude over, and earning his family's unwavering love with his intelligence, affection and joy of life. Raiser of children, wiper away of tears, bed and couch warmer, loyal and true confidant.
He epitomised what those of us who love this breed know everyBISS Finnish Lapphund winner will always be. Behind the beauty of the successful show Finnish Lapphund lies he precious soul of a best friend.
Honour Roll of Past Winners
​FLCV Specialty Championship Show 2019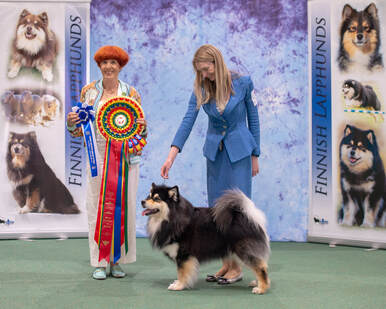 Sup Ch Taigakoira Tahtien Valo (AI)
"ZEKE"
Bred by: Terri MacDonald
Owned by: Huey Miin Lim & Terri MacDonald
Sire: FIN.CH. LECIBSIN KAAPRO (IMP FIN)
​Dam: LAPINLUNA'S LAPINTAHTI (IMP NOR)
​FLCV Specialty Championship Show 2018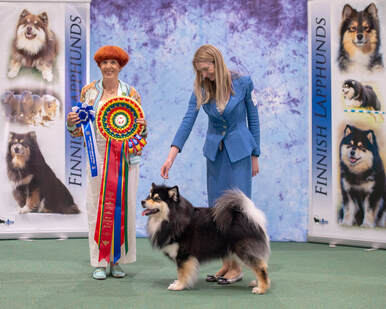 Sup Ch Taigakoira Tahtien Valo (AI)
"ZEKE"
Bred by: Terri MacDonald
Owned by: Huey Miin Lim & Terri MacDonald
Sire: FIN.CH. LECIBSIN KAAPRO (IMP FIN)
​Dam: LAPINLUNA'S LAPINTAHTI (IMP NOR)
FLCV Specialty Championship Show 2017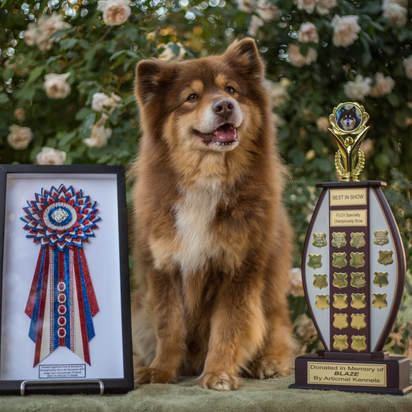 Ch. Taigakoira Buoremus Davvir PT
"TAAVI"
Bred by: Terri McDonald
Owned by: Simone Dillon & Meagan Thomas
Sire: Ch. Herding Instincts Nakke Nakuttaja (Imp SWE)
Dam: Ch. Watersedge Little Black Dress
FLCV Specialty Championship Show 2016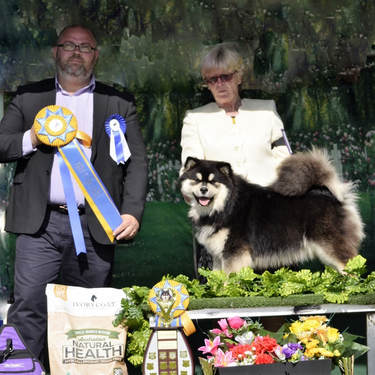 Lempo Blackbird (AI)
"ANJA"
Bred by: Mel Scriven
Owned by: Angela Kelly
Sire: Lecibsin Kepponen
Dam: Ch. Lempo Avenging Rogue
---
FLCV Specialty Championship Show 2015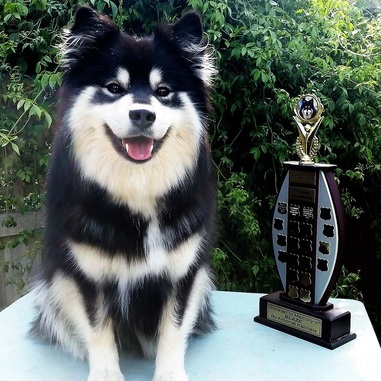 Aus Ch Lecibsin Sametti (Imp UK)
"SUMMER"
Bred by: J Kuusisto (Finland)
Owned by S Chouffot & G Brassington Caleebra Kennels
SIRE: Lecibsin Kepponen
DAM: Lecibsin Suvituuli
---
FLCV Specialty Championship Show 2014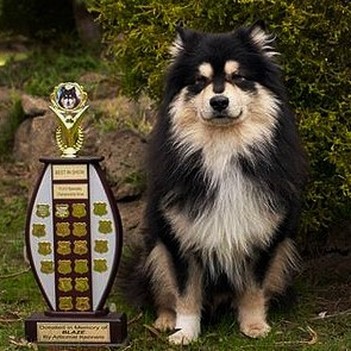 Supreme Champion C'est Louis Armstrong des Chevaloupsgreg CD RE HSAs (Imp USA)
"LOUIS"
Bred by: V Valy (France)
Owned by J Lincoln Armahani Kennels
SIRE: Jnr Lux Ch Oberitz Oivallus (UK)
DAM: Gottorp's Danish Jokkaa (Dmk)
---
FLCV Specialty Championship Show 2013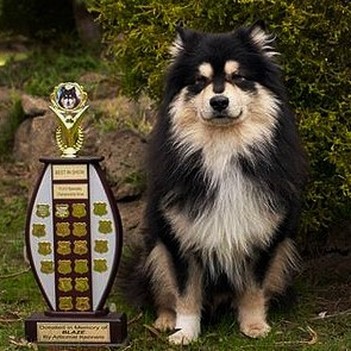 CH. JANOBY FRILLY NICKERS
"PINK"
Bred by Janoby Kennels
Owned by Janoby Kennels
SIRE: Sup Ch. C'est Louis Armstrong Des Chevaloupsgreg CD RA HSAS (Imp USA)
DAM: Ch Janoby All About Aura

---
FLCV Specialty Championship Show 2012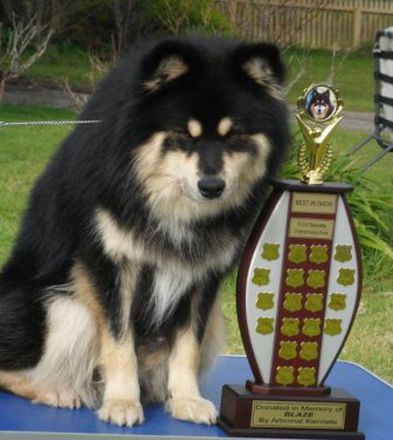 CH. KALEVI BLESSED IN WONDER
"COMET"
Bred by Sarah Ewenson
Kalevi Kennels
Owned by Nicky, Michael and Maddy Nyp
SIRE: Ch Articmal Dynamic Iilusion HT
DAM: Magpielane Snow Hush